Marillion - Wolverhampton - 04/11/98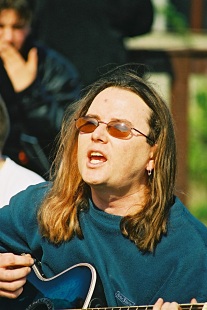 Originally posted to the Freaks Mailing List:
That was one superb gig last night. Paddy, Theresa, and myself were transported the incredibly long distance (Hee! Hee!) to Wolverhampton by Doc Hollands in a borrowed van and started the party on the way - Paddy bringing a few cans and some Mr Kipling cakes as well as his hot water bottle!! Some good-humoured (please note!) era banter was enjoyed, and we sang most of Misplaced Childhood as well as Fugazi (the song) because we knew we weren't going to hear them live! We also didn't expect the band to play any New Model Army so we sang Get Me Out, Family & Vanity too - we found this to be a far better alternative to setting out to be disappointed!
The sound was generally vastly improved over Reading (although a little muddy to start), as was the rest of the venue - we had balcony tickets but chose to stay downstairs - the lighting was excellent. I mentioned to Pad afterwards that Steve R appeared to be really getting into it and he agreed that he'd never seen Rothery improvise remotely as much as he did, fitting in with the general feel and attitude of the whole band who seemed to be genuinely having a great time.
Many of the R10 tracks came over even better than at Reading, due both to the improved sound and (probably consequentially) the band's greater enthusiasm; 3MB is already a classic; UtS & The Answering Machine rock fat ones; Cathedral Wall a storming show-closer. 'Not-quite-as-up-as-the-rest-sides' - Eighty Days is still, for M, mediocre and Gazpacho still sounds like they're going to go into La Bamba any minute :-) I feel slightly sorry for people who missed out on TSE earlier in the tour but its replacements - Born to Run (came alive - Rothery got loudly applauded in the middle), AoSunlight (heard marginally better, but still excellent) & The Great Escape/Falling From The Moon (my jaw hit the floor at times) were more than fitting substitutes.
Then came MoW - Wow! - They're really getting into this one now! - and, of course, King. Nuff said. The appreciation shown by the audience throughout the gig was voluble and determinedly genuine, for many of the R10 numbers even more so than for the Brave segment, Splintering Heart, CSB etc.
Apart from the already mentioned minor keyboard probs (including an unfortunate keyboard-induced resonance throughout the beginning of Splintering Heart), the only other nag was the apparent absence of a decent de-esser on H's vox, causing him to have to deliberately de-ess his own words by 'under-pronouncing' the sibilants - those of us used to doing this in cheapo studios will appreciate how class an act this is to do live!
Then Paddy bought THREE Script... posters outside and Doc bought one too (Huh??)
Then we went to MacDonalds................
We were happy..........
Cannibal Surf Boy
"Chandeliers & Charlemagne
Fireworks & Toys"