This Train/Boat/Plane/Car is My Life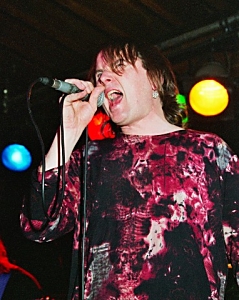 "This train is my life, speeding through the night
We have been to these places for barely a moment..."
Perhaps I can just blame it all on Tosh, for it was he who first suggested a double-header - a Forgotten Sons gig in Glasgow before the Fish show on Saturday 22nd November, with a Skyline Drifters one the following day in York. Now, the latter wasn't logistically possible but Marillion were on tour at the same time, Forgotten Sons having played their first gig for six months at Rockers before the Marillion ABC show on Sunday 9th, and Lords of the Backstage were eager to play at some point to coincide with the Dutch leg of the tour. The Forgotten Sons gigs were pencilled in very quickly - I suggested to Jeff that we copied the idea of a pre-show that the Lords had successfully pioneered back in March at The Waterhole in Amsterdam - and Rockers were very up for having the band back, albeit with some new faces, Davey and I on drums and vocals respectively. Then we found a suitable venue in Tilburg - Cafe Bolle - where we could do a pre-show on the Sunday before Marillion's 013 gig and the stages were set; the remaining issue was how to get between them!
No problem, I thought; even if Sarah and I have to miss the Fish gig, all we need is a plane late on Saturday evening or early on Sunday morning from Glasgow or Edinburgh to Amsterdam and we're sorted. No dice. Nothing after mid-afternoon on the Saturday or early enough on the Sunday, bearing in mind that, even in the excellently provisioned with public transport Netherlands, Tilburg is a couple of hours by train from Schiphol. I started explaining to the bands how we planned to do it and hoped I'd built in just enough slack; I have a feeling they thought me insane...
So I packed the car on the Friday morning in Bristol, put in a couple of hours "staring out over the bridge" at eGroup and then headed up the M5 and over the rapidly freezing Cotswolds to Banbury, where Sarah arrived home from work at precisely the same time; we spent an hour sorting ourselves and our belongings out and having a cuppa and then got back in the car and drove down the M40, around the M25 and up the M11 to Stansted Mountfichet, where we spent the evening having a top-notch Indian meal and then retired to the inn we'd booked. Here we watched some appalling nostalgia show where Paul Young was pretending to sing and Kajagoogoo were demonstrating how to age very badly, whilst pretending they hadn't; we could think of better things to remember from 1983 to be honest and, if it all went to plan, I'd be singing some of them very shortly...
Up at 6.30 after a not particularly good night's sleep in a room over the bar, which appeared to be the late night venue of choice for the town and surrounding area, we left the car in the lot and jumped in with the landlord who took us off to Stansted, where we cleared security in plenty of time, the first "we absolutely cannot f**k this bit up" leg of the journey. After a brief bit of verbal jousting with the poor soul trying to raffle a Porsche, at twenty quid a ticket, in the middle of an economic crisis, we were off to the gate and, on time, onto one of Ryanair's finest ;) 737-800s, with a surprising number of Rangers fans and an unsurprising complete absence of anyone foolish enough to pay the priority boarding "idiot tax". I realised I'd left my MP3 player in the car (so no acoustic View from the Hill then!), nabbed the window seat and drifted off somewhere over Derbyshire, as the cloud blotted out the land below...
"Wide awake
Sometimes sleeping
Sometimes watching
Sometimes dreaming..."
I've never been to Prestwick Airport before, or should I say Ayrport? Yes, it's that far out of town but there's a regular train to Glasgow Central which takes 45 minutes and runs every half hour. We didn't know until this point, where we could check the timetables, what time we'd need to leave Glasgow on the return trip; the 6.30 train would be really pushing it, so the 6PM one was decided upon as the latest advisable target. It was bitterly cold and there was more snow forecast for early evening; we'd need it to hold off long enough to get airborne. After a ten minute wait, we climbed aboard and relaxed as we watched the championship golf courses split asunder by the "steel of the rails", on our ride towards Paisley, along the Clyde and into the heart of the city...
I noted the platform and we trotted down the steps from the station, timing the walk to the Crystal Palace pub where we'd been not two weeks previously. Here we knew was our last certain chance to relax a while for the next 24 hours, so we did just that and were gradually joined and regaled with "tall tales of stripograms, table dancing, songs by Fish" by the somewhat worse for wear dawn patrol fraternity, who had been out celebrating Mike "Jester Ireland" Barton's 40th the night before; out celebrating with Norwegians, that is - hello, Mr Dahl, how lovely to see you, as ever :D A further party was planned for this lunchtime in the pub, a Wetherspoons, so I wandered off to load in and soundcheck whilst Sarah helped Em and the rest with setting up for that...
In soundcheck I was pleased to hear that I could actually discern some sort of vocal through the monitors, unlike the previous gig, and we tried to cajole the sound engineer (actually the venue owner, aka h, funnily enough) into keeping it down a bit so that the crowd would actually be audible, as I knew they'd make a big noise this time around. Then we tripped back to the Crystal Palace to grab a slice of Mike's cake, a beer or two, chat to friends new and old (many of them with photos of feet of snow on their way back down the A9 from Inverness) and tell them not to be too tardy back to Rockers, as not only did Sarah and my schedule mean we couldn't start too late, Paul and Jim needed to be away for an evening gig too...
There was already a pleasingly-sized crowd back in Rockers when we got there - and most of The Company Gloster and friends were still in the pub! We'd changed the set around a little, so as Grendel faded out on the big screen, La Gazza Ladra took its place over the PA and we marched on and into Slainte M'Hath, the first of several songs it was interesting to sing in this setting, some for the first time, as was the case with Lucky. As I remarked to Gordie when he sent me the video of the latter (http://www.facebook.com/video/video.php?v=48086223783), I can remember first approaching this song and wondering how the hell so many words could fit in such a small space! We also added a piano, vocal and guitar Raingods with Zippos, followed by a full-on Wake-Up Call; dropped were h era tracks Beautiful, No One Can and, because I couldn't hear myself by that point, Cover My Eyes. The deteriorating sound probably contributed to the slight disagreement I had with the soundman at the end of Dry Land over the smoke machine, which was kicking out nothing more effective than the stage equivalent of milky pre-cum, whilst lending a horrid, chemically tang to the air; he decided to make a sarcastic (and rather inaccurate!) comment to me through the talkback, so he got both barrels of Assassing :D I'd been having a good time before but was now nicely fired up, so the second half of the set proceeded with much gusto from both band and crowd, finishing off as per the previous outing with a highly enjoyable, crowd-sung Sugar Mice, followed by Forgotten Sons - even more of a pleasure to sing than usual with Zander's excellent backing vox...
As we went into the encores of Garden Party / Market Square Heroes followed by Fugazi (with its own Scottish ending, dreamt up by the rest of the band for the occasion), there appeared to be more movement than usual stage left, around the door. It's a wonderfully dark and seedy little venue - well, it'd have to be for me not to be able to make out one Derek W Dick standing there apparently singing and applauding along. With his own gig to come later on, Fish didn't want to hang around too long afterwards and I missed out on talking to him - strangely enough, in almost a carbon copy of a scene from The Hatchet in Bristol a couple of years ago, as I was walking in his direction, Jolijne, who lives in Amersfoort not 10km from my old house and who I didn't even realise was in Glasgow, threw her arms around me and diverted me, whilst Sarah went outside and had her photo taken with him. I think it was a plot... ;)
Having said hello to a few of the fans and thanked my fellow band members for a great gig, we realised that, if we hurried, we could make the 5.30 train back to the airport - always good to build as much extra leeway in as possible! - so I packed up my coat and other clothes and we bade our farewells and strutted back up the road, across the crowded expanses of Glasgow Central and settled into the train. It was around this point that it became clear that Sarah was definitely going down with some unpleasant lurgy and I could only supply tissues and be thankful that, if I succumbed to it myself, then it would likely be after the second gig...
"You and I, we're movie-rich
We're reflected in the window
The dark night's black mirror glass
Distant lights from the wrong side of the tracks..."
The journey passed otherwise uneventfully and we found ourselves in good time back at a thankfully snow-free Prestwick. Whilst waiting in the bar for the slowest-arriving plate of cheesy chips ever (I think the frozen ground must have caused trouble digging up the spuds or something), listening to a football agent advising the new manager of Watford days before he accepted the job (Brendan Rogers - this is the second time this has happened to me, as I knew about some of the stranger goings on at Hearts before they happened from a conversation on a Dutch train a couple of years ago; I really should learn to take this info down the bookies!), another gentleman walked in and started slightly shiftily hovering in front of the bar; perhaps he thought he was going to get done for procuring or something, for it was none other than David Pleat. There was a moment of consternation when the airport announcer called the flight an hour early but I had time to commend the aforementioned pundit for his insightful comments on the England match the previous Wednesday (no, really - although I did tell him I always greeted the prospect of watching a match on ITV with some trepidation!) and scoff my finally-arrived nosh before gathering Sarah up and wandering through security, whereafter we promptly sat down and watched Aston Villa vs Man Utd (well, I did - Sarah's not exactly a huge footie fan!)...
The theme continued as we bumped into Mr. Pleat a couple more times and extended our chat a little; no, we weren't stalking him, ours was the only flight still to depart. And besides we were a tad more casual about it than some of the returning Rangers fans in the queue for the plane! Still no snow in the vicinity or need for de-icing so we left on time and dozed some of the way back to Essex - or as much as Sarah could, given her streaming nose. When I got my own hanky out on approach into Stansted the bloke in the aisle seat next to Sarah remarked that, "Blimey, you two must be fun in bed" - well, if he didn't mean the comment to be about colds then he got away with it (apart from almost certainly developing a nasty cold over the ensuing forty-eight hours, anyway)...
The inn had originally promised to pick us up from the airport but had backed out of the commitment for some transparently spurious reason when we checked in, so we wandered off to find the taxis. Oh, dear, it's a Checker Cars monopoly (we have the buggers at Bristol Provincial too). Shame Sarah couldn't have joined in the laughing in the bloke's face at the quoted eighteen quid for a seven minute journey, as he'd then have developed the lurgy as well; the rather more pleasant chap selling tickets for the train at two tickets for a fiver couldn't quite believe the cheek of it either, and we wandered down into the frozen bowels of the airport to await the departure of yet another train. Back in Stansted Mountfichet a few minutes later, we hopped off and meandered back over the bridge to where our faithful Volvo 440 awaited us for the next leg of the trip...
Thankful that a) all our belongings were still in the car, b) it started and c) the exhaust manifold wasn't making any worse noises than previously, we turned the heater up full and headed back down the M11 and around the Eastern side of the M25, with me trying again, unsuccessfully, to convince Sarah that "A bridge is not a high place" on the approach to the QE2 crossing - mind you I'd not been over it myself before and even I have to confess it's pretty tall! We also thought about calling up the DJ on Radio 2 who was asking for calls from musicians driving home from gigs - I'm not sure he'd have believed mine ;) - but we were almost at the Ashford Travelodge by this point, where we pulled into a decidedly icy car park, for some reason were given a disabled room and then did our best to disable ourselves good and proper with a couple of single skinners outside reception before retiring...
Up at 6.30 again and out the door a fraction after 7, we headed down to Dover, through check-in and into the queue for the 8.30 ferry. Although the shuttle, which I normally use, is quicker, this gave us more flexibility and we also had a bit more time to wake up, along with seemingly every other passenger on board queueing for the breakfast bar, where the kind chap serving hid at least one of my veggie items under the beans and thus saved me feeling even more ripped off than absolutely necessary. The crossing was fairly smooth but as we approached Calais it started snowing and I hoped it hadn't arrived early everywhere. Thankfully it petered out as we headed along the familiar, if tedious, motorway past Duinkerke / Dunkerque / Dunkirk towards the Belgian border, with Sarah priming the MP3 player with Somewhere Else and then drifting off to a sleep only briefly broken by that crappy bridge near Gent with the multiple speed cameras...
Of course the Europeans have a rather more personal liberty / common sense-oriented attitude to border control than Big Brother's Little Englanders, so the snow was the only thing that was going to stop us now; but it didn't trouble us again until we were pulling off the A58 into Tilburg - by the time we were making our way through the intercom-guarded link from the car park into the Mercure hotel it was caning down, settling and slowly turning the streets white. I packed my gig bag, left Sarah to work out where she could procure a cup of tea with milk in and trundled off around the corner, through the snow to the venue, inside and up the stairs onto the stage, with a huge, huge grin - "Het is gelukt!!!!!" - "It worked!!!" - "I am perfectly sane!!"... :D
Cafe Bolle was heaving with a young crowd tucking into Sunday lunch and we worked around them to set up the equipment, under the gaze of Stadler and Waldorf from the Muppets, a shark coming out of a wall and various other bizarre adornments (see Nick Askew's excellent as ever photos here: http://www.askew.nl/Marillion/Images.aspx?source=Lotb23112008). In a strange echo of the Skyline Drifters gig in Gloucester in March, everything was readily sorted except for Ivo's guitar amp, which just wouldn't stop feeding back, even when turned down to practically zero and run almost exclusively through the PA - quite bizarre. Walking through the bar to the occasional howl of feedback, with the crowd slowly metamorphosing from mainly students to a somewhat older mix of Marillion fans, I casually waved back at some faces I recognised, walked on a few steps, did a quick double-take and stepped back to greet them properly, as I realised where I knew them from - Norway! Terje, Susanne and co from The Web Scandinavia had arrived, some with Misplaced Neighbourhood t-shirts, and I chatted with them for a few minutes whilst we awaited our pre-gig food and drinks...
...and so the snow piled up outside and showtime (and Sarah) arrived, we soundchecked with a swing-y Grendel and soon it was again time for the strains of La Gazza Ladra to lead into Slainte M'Hath; but, oh my word, what a difference a sound engineer who knows the music and the band (and understands the word "subtle"!) makes - for the next two hours I would be able to hear myself and the other musicians brilliantly and properly enjoy playing cheerleader for the enthusiastic, mainly Dutch crowd. It was quite amusing trying to do bi-lingual between songs banter for the benefit of the viking contingent who, as usual, made a name for themselves as the top audience participants, seeming to thoroughly enjoy, amongst others, the new Grendel - Three Boats Down From The Candy - and Childhood's End (having dutifully run up and mimed throwing their belts at the stage for Blind Curve, of course). The superb on-stage sound and the knowledge that the whole plan had worked out to perfection meant that, even though we hadn't played some of the tracks as a five piece for some considerable time and Ivo had to feather his guitar pedals throughout, the gig was an absolute pleasure to perform, with the This Town trilogy and King considered by several people (and that includes myself) as highlights...
Once we'd established again that we're all Market Square Heroes, it was time to relax, have some food and beers with the Lords, load the gear and say farewell, wander back to the hotel and then on to 013, catch up with friends, watch the excellent Marillion gig from the balcony, bump into the Norwegians again after the gig - when we found out that Cafe Bolle translates "interestingly" to their language, meaning that they'd earlier seen Rich Erection preforming at Cafe Fuck - see Steve Rothery in the Irish Bar (and again in reception in the morning, where we had a little chat about Oslo) and then finally stumble back through the now mostly slushy snow to the Mercure. Okay, it had been a mildly insane couple of days - but bloody satisfying...
"So take my hand
Squeeze it tight
Make some light
In the darkness
I'm glad you came on this trip
Don't lose your grip
Don't lose your grip
This train is my life
This train is my life
This train is my life..."
We took train, bus and car around The Netherlands for the next few days, staying in Amersfoort - where we'd installed ourselves the day after the Tilburg gig and also had lunch with Jolijne, back from Glasgow - shopping and sightseeing in Delft (where we unfortunately just missed seeing my erstwhile Elf 'n Rich partner, Jeroen) and visiting in Soesterberg with Marcel, Esther, Sil and Rianne, spending the afternoon swimming with the latter, and then saying hello to Shelley, Zoe, Boyd and Mosley while I picked up a load of my things, before returning through Belgium and France to England, back up the M20, round the M25, up to Banbury and, myself, back finally to Bristol. Well, one of my favourite expressions is, after all, "Hectic but fun"!
"Travel with me
And we'll see..."