Hangman - Mid-Nineties Heavy Rock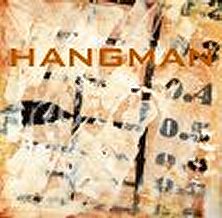 The original members of Hangman - guitarists Mark Rumph & Craig Richards, a drummer called Simon and a bassist/vocalist who I never met - were formed into a rock covers band by Craig's dad and uncle when they were still of school age. After a couple of years playing local pubs they decided to move into performing originals and had just recruited a new, 17-year-old bass player, Chris Palmer, when I saw an ad in Bristol's Duck, Son & Pinker music shop, in May '93.
Sane had only split up the previous week and I wanted to get cracking on something new; the advert said to see Mark at the counter and it turned out that he was one of the guitar salesmen. I went to an audition later that week, in the basement disco of Stanshawe's Court Hotel in Yate: these guys were loud - I don't know how they could hear a word I was singing 'cos I hardly could - and heavy with it and I wasn't sure it was the right thing to do. The band and their entourage - Craig's dad Keith, Uncle Clive and his missus Jen - thought I was the bees knees though, so I said I'd think about it.
A week later, when the next practice came up, I'd decided to give it a go, but let them know I wasn't convinced it was for me - to be honest I wasn't certain I could cope with the demands of a full-on heavy rock vocal style but thought I might as well try.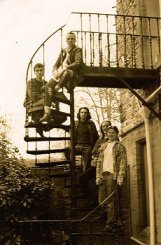 As far as my vocal ability was concerned, it was a good move; working with Hangman set the seal on my earlier efforts to improve my technique, because the alternative would have been to wreck my voice forever! The first signs of tensions that would run and run showed however when the five band members decided to accept the offer of a gig at Stanshawe's, much to the consternation of 'The Management'. Indeed, the band members all agreed that 'The Management' should stop trying to control the band and actually act as facilitators for what we wanted to do. The band wrote loads of new material for the gig, which was an artistic and financial success and, ironically, at the same time the seeds of the band split were already sown. The photo on my main Band History page is from that gig, the posed photos on this page having been taken beforehand.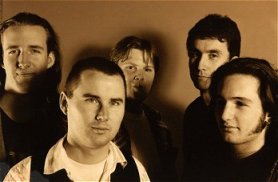 On the upside we were now practicing at The Black Castle in Bristol but Simon was becoming a problem - he had a young family and was not prepared to spend enough time on the band - so after various discussions and cancelled practices he agreed to vacate the drummers stool, causing further friction with 'The Management' as Keith was a business partner of Simon's dad. Simon's last contribution to the band was recording our first demo, which I've just put on for a giggle - it's not quite as dire as I remembered, but almost :-)
Fairly speedily we were lucky to recruit Eddie Lee, who was also working with respected Glam Rock band, Diamond Dogs, and with a stronger rhythmic foundation we began to polish our rough diamond. Now approaching 28, it was a bonus to me to have 25-year-old Eddie on board as a bit of balance to the youngsters! We could also practice in the large workshop belonging to his family business - P.A. speakers on fork lifts, the lot! In March we went into White House Studios near Weston to record the four tracks from which the Real Audio samples on this page are taken and were extremely pleased with the results. Gigs also started happening more regularly - everywhere from a posh public school near Bath to Hatchetts pub in the middle of that city. The latter was a wheeze for me as it was a double gig with The Dubious Brothers, my acoustic collaboration with Paul Dutfield (later bassist in Zeptepi).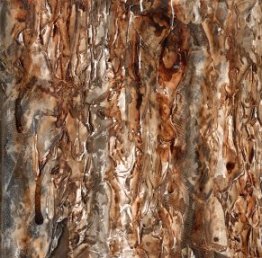 Attitude was now becoming a problem - the guitarists were leaving practice early to go to Andy Fox's Bierkeller Rock Disco and no-one wanted to front up any money for anything - not even pressing CDs from the demo; we never even had tapes done! (I did, however, commission some original artwork by a colleague called Marc Day - I still have the originals and have scanned them all for you here.) The supposedly agreed objective of doing another four tracks and releasing an indie CD just wasn't going to happen. Worse still, Chris's attitude was now estranging himself from the band and, despite the fact that I actually thought he was an obnoxious little brat, when The Management reasserted control and sacked him, I went out the door by association. A funny addendum to this was that The Management thought it was then a good idea to press tapes from the demo and hawk them around the area - one or two promoters with whom I was on good terms and who could easily recognise my voice weren't too impressed with that!
I do miss working with Mark Rumph - a generally jovial chap with a knack for writing catchy guitar riffs and intelligent lyrics - and Hangman was the only band I have spent much time with that always made money on gigs. Mark's connections also enabled me to buy my radio mic at a considerable discount - I'd now be lost without it - and I rode the GS550 Clive sold me for about seven years. All in all, Hangman was an enjoyable challenge, but you can't let people's relatives get involved with band management and expect it to last!