The Allnight Chemists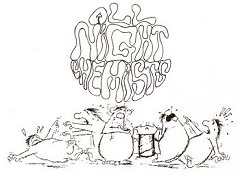 The Allnight Chemists. Where do I start? Well, ANC were formed by Martin Revens (Guitar) and Ian Simpson (Bass) in the late Eighties. Alan Pout (ace lyricist and consummate/consumptive axeman) joined to share guitar duties and they'd been through two drummers, including best mate Rich Bosworth (Smile On The Void, Aversion Therapy, Beowulf UK, etc.) when I joined in Summer '88, a little after another close friend Nic Jones (Zeptepi) had taken over the throne.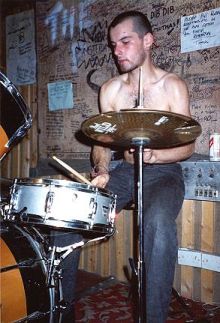 The music was influenced by the dirtier-sounding side of the progressive scene - Rush, Gong, etc. and the melodic tradition of the heavier British bands - Zep through to Sabbath really, with just a smidgeon of Hawkwind thrown in for good measure! The general quality of songwriting was such that you could play the songs clean and they were almost pop - listen to the Real Audio samples at the foot of the page - or you could play them like we usually did - loud and aggressive - and they kicked major league ass. So, we weren't note perfect all the time, but when you're playing a 3-hour set (because none of the other bands turned up!) at a bike rally in a marquee somewhere in deepest Hertfordshire, our experience was that what you put into the performance was a tad more important. Actually, apart from the wet t-shirt contest (which degenerated - surprise, surprise!) and the 'accidentally packing two cases of beer into the car with the drum kit' incident one of the most memorable parts of that gig was the stage, which was on a decided side-to-side slope - Nic and I were continually having to resurrect parts of his kit mid-song, not aided by some shambolic, drunken stumblingness of a biker knocking cymbals over in his efforts to 'help'.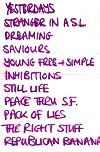 Typical gig venues at this time were The Fleece 'n Firkin, The Bristol Bridge Inn, La Cav and anywhere else that'd book us! There was some good friendly rivalry back in Bristol between ourselves and the likes of The Seers and The Herb Garden, leading to some excellent grafitti wars in the practice studio (a.k.a. Red Stripe consumption area) we all used (Antenna - belonging to multimedia pioneers, The Startled Insects) and we went from being a semi-serious band, playing a fair few covers, to an almost totally originals band in a space of a few months - the only cover on the set-list here is The Right Stuff (Bob Calvert). Unfortunately, Nic left to pursue some of his other influences but we replaced him with ex-Myriad Lifeform sticksman Johnny Morris. Then Martin announced that he was moving back to Liverpool and we were four again.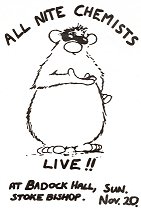 We had been writing new material and advertising for a keyboard player as replacement when I had a chance meeting with Eric Baker, a veteran of the melodic rock scene (sorry - I can't remember for the life of me the name of the signed band that he had played in during the late-seventies / early-eighties). Basically I was a bit of a layabout at the time and Eric, who lived five doors away, accosted me as I wandered across the road to the Student's Union for my daily hour or so of snooker practice. We went for a game; he said he was a keyboard player; I invited him to meet the band!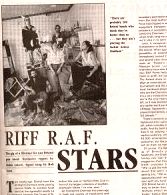 Now practicing in one of a series of hovels created out of a disused warehouse near the SS Great Britain, it was something of a shock when Eric turned up one day and asked if we wanted to do a three week tour of Belize and Mexico! A charity fundraiser friend of his from the RAF (Andy Muniandy) had asked him to reform an old band to go out and raise money for The Stella Maris school for disabled kids in Belize and it all tied in with a Mexican cultural festival - they wanted the band to hop the border and headline a gig at the 125,000-seater Azteca Stadium! Eric said 'Well - I dunno - but I've just joined another band and they'd probably be up for it'. This was just totally surreal - so of course we had to go for it!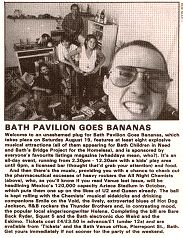 The next two to three months was a continual whirl of activity, with listings mag Venue sponsoring the tour promotion, interviews, photo-shoots (in and on the roof of my trashed former flat), fund-raising gigs - including some at UK RAF bases, where the lyrics to Peace Through Superior Firepower usually caused a bit of a stir (!), itinerary and logistics planning (the RAF flew all our gear out and back) and recording the demo from which the samples come - shame it doesn't quite capture the true essence of the songs but I think that was mainly inexperience and a desire to make everything a little too precise, certainly on my part. Oh - and there was the all-day 'Bath Goes Bananas' gig, 'organised' by Mad Eli (!), which we headlined, for the benefit of the forty-odd people who turned up!!
We also picked a few new covers to make ourselves a little more accessible on the fifteen-gig tour (most of which we'd dropped again by the end) - a little under half of the gigs would be played to forces audiences, the rest to the local population, with ourselves supported by a folk band, Cat 'n Fiddle, and a series of 'local entertainers'. Hmmm - sounds interesting!
If you want to read some extracts from my tour diary, accompanied by some photos, I may do a separate page here soon.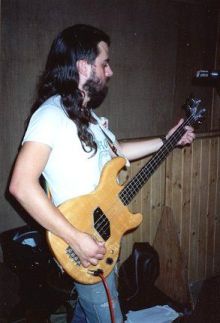 In summary: we had an incredible experience, got ferried around by UK Forces Lorries, Boats and Helicopters, visited the Belizean Cays and Jungles, didn't play the Azteca but went out on Mexican telly to an estimated audience of 6 million people, got thoroughly pissed off with each other - the main problems being between myself and Eric, which almost came to blows (caused particularly by Eric bringing his son along as sound engineer when the only knob he was capable of twiddling was in his trousers) - got malaria, had massive rows with organiser Muniandy and saw most of Cat 'n Fiddle sent home for refusing to partially underwrite the financial debacle that the tour became, met David Davinox - dope-smoking local author of the massive Belizean hit 'Don't Take Drugs', played an open-air gig to loads of rich yanks on the island of Cozumel, visited a Mayan temple, bemused the Gurkhas, had teenage girls screaming from the balcony through an entire gig in Orange Walk - rock capital of Belize! - and split up when we got back home!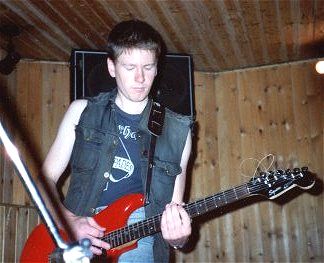 I'm still in touch with most of the Chemists: Ian still plays bass, most recently with The Brew Band, Johnny spent some time in Amsterdam and has a stall selling fossils in St Nicholas Markets, Martin'll be down for Ian's wedding later in the year and I'm currently working with Alan on a two-guitar duo - more news on that to follow. As for Eric - he disappeared to Spain, came back, played cheesy covers gigs in local dives and disappeared again.