Marillion - Marbles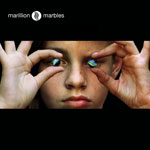 Originally posted to The Opium Den, 02/05/2006
Natasja and I were listening to .com the other day and Marbles has been back in rotation in the office too. Can hardly believe it's two years since Marbles came out and ingrained itself on my brain (along with His Dark Materials, which I was reading at the time - no, that's not where the "dust keeps coming" from; I asked :) ). Normally I want to hear the next album before placing the last one in some sort of context but I think it's long enough now and I have the same gut feelings I've had at this distance with all my other favourites.
I know there are some here who think Marbles too long, but I just don't tire of the double CD and would hardly snip a minute of it. The Only Unforgivable Thing has done nothing to remove itself from its, immediately-acquired, weakest track status but I wouldn't throw even that out. The rest has a variety not dissimilar to that found on Afraid of Sunlight but spread over more tracks, with a similar coherence overall - a collection of complementary flavours. I think I'd now need to play it up against Afraid of Sunlight to decide which I prefer; praise indeed, although I have a suspicion the succinctness and density of AoS would win out.
Against Brave, it comes up short: despite its interwoven lyrical and musical themes, Marbles lacks the depth, intensity and dynamism, although it does have the advantage of being able to sound quite summery, which Chateau Marouatte '92/3 is never going to be accused of (the God-awful happy clappy claptrap ending having been recorded in Liverpool)! But then with me I'm not sure first prize is up for grabs any more - Deadwing comes close and is still on heavy rotation but increasingly in the same, comfy sweater way I kept for years playing Seasons End, AoS and .com which, as I alluded to earlier, still does it for me and could be a masterpiece if Steven Wilson had mixed the whole thing and BiBR had made it onto radiat10n instead. Yes, I can even live with TDtY these days, as the leading bookend on the best 10min+ track the band have ever recorded, Interior Lulu.